He fears for his life and safety of his family, admits the activist from Mumbai, Manoranjan S Roy. Life for him had changed ever since his RTI applications revealed discrepancies between the supply and deployment of Electronic Voting Machines in elections. But his recent disclosure that the Ahmedabad District Cooperative Bank with BJP national president Amit Shah as one of the directors collecting a whopping Rs 750 crore in just five days after demonetisation, has brought him unwanted publicity. Excerpts fom a conversation with Ashutosh Sharma.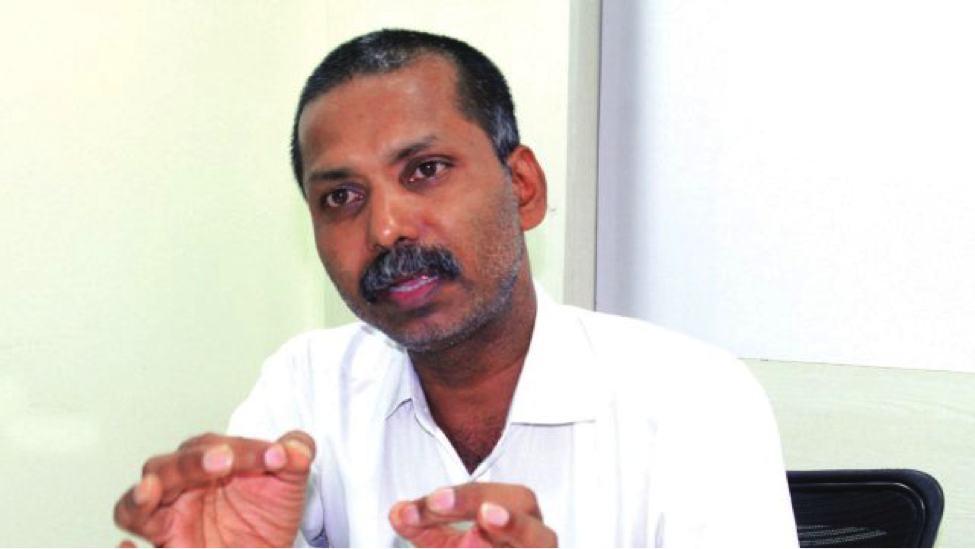 Q. Why are you avoiding talking to the media?
A. It's because of my past experience. When I needed media the most, they ignored me and the important issues that I was raising. Media come to you only if you have something sensational to share. I find a majority of the media pursuing hit-and-run journalism. They don't seem to have the time or they lack the commitment to follow-up and take issues to their logical conclusions.
So far as IANS is concerned, it has reported all my stories in the past. I have a good professional rapport with one of its journalists in Mumbai. We share a relationship of mutual respect and trust and that's why I prefer to speak only to him.
Q. Several media organisations have taken down the report on the Ahmedabad District Cooperative Bank. What's your reaction?
A. It indicates the kind of influence the ruling party and the government exercise over media. Either the editors or the owners of media houses are afraid of the current establishment or they simply have compromised on journalism. This kind of fear was never there earlier.
In the last few years, government officials have started refusing information under the RTI Act. It is becoming difficult to extract information from the Government. What's more, after providing the information under RTI Act, authorities now give clarifications or contradict their own information under political pressure. But nobody seems to be worried.
Q. What does the information furnished by National Bank for Agriculture & Rural Development (NABARD) to your RTI queries convey?
A. Demonetisation has turned out to be a massive scam that enabled BJP leaders more than anyone else to turn black money into white in a legal way. It was all pre-planned and raises serious questions.
The RTI replies from NABARD also revealed that the Rajkot District Cooperative Bank, whose chairman Jayeshbhai Vitthalbhai Radadiya is a cabinet minister in Gujarat, also got deposits of old currencies worth Rs 693.19 crore.
Q. But NABARD has issued a rejoinder and claimed that there was nothing wrong in ADCB receiving demonetised currency and that the amount was also not unusual…
A. It's a poor attempt at cover up, and at the behest of the central government. NABARD is now claiming that the total demonetised notes deposited with the district cooperative central banks (DCCBs) in Maharashtra were higher than those deposited in Gujarat. This is not true, according to NABARD's replies to my RTI applications.
Maharashtra's 30 DCCBs (out of total 370) secured deposits of Rs 3,985 crore worth of banned notes averaging Rs 132.83 crore per bank. But in Gujarat, 18 DCCBs secured deposits of old notes worth Rs 3,640 crore, which means an average of Rs 202 crore per DCCB.
Let NABARD challenge me in a court of law, then I'll let it be known to the country how they are manipulating the system and conning the country. Why NABARD and other agencies haven't ordered a probe against the ADCB yet? Isn't it a matter of investigation? It's a clear scam.
Q. Did you consult any expert before releasing the RTI reply to the media?
A. No. I don't have the resources to utilise the services of experts. I started out as an informer of the Income Tax department and whatever I have learnt is through practical experience. People have this impression that I have a dedicated team of researchers but I am all alone in my war against black money.
Q. What made you seek these details from NABARD, what were your questions and when did you file the application?
A. I've been gathering information on black money since 2012. The RTI replies received from the RBI and three security printing presses—in Nashik, Dewas and Mysuru—pertaining to currency notes of certain denomination received and sent by the security presses from 2000 to 2011 showed contradictory figures. It revealed large quantities of missing or excess currency notes.
So, I filed a PIL in Bombay High Court in 2015 which was disposed of by the court in August 23, 2016. Then demonetisation followed in November and I was naturally curious to know how many demonetised notes are returning to the banks.
I filed my application in March 2018, and asked NABARD about total currency notes of Rs 500 and Rs 1000 denomination deposited with State Cooperative Banks (SCBs) and District Central Cooperative Banks (DCCBs) from November 8, 2016 to December 31, 2017.
While sharing the information, NABARD in its reply stated that the SCBs were allowed either to exchange or take deposit suspended bank notes up to December 30, 2016 whereas DCCBs were not allowed either to exchange or take deposits of suspended notes after November 14, 2011.
Q. Did you file any RTI application to the Income Tax department after receiving replies from the NABARD?
A. No. RBI had set a limit of Rs 2 lakh per account on depositing money during demonetisation. I have no information if RBI or Income Tax department have sent notices to depositors of Amit Shah's bank if they had exceeded the deposit limit. It is for the Home Ministry, RBI, CAG, the Central Board of Direct Taxes and other such authorities to get to the bottom of it.
(Courtesy: National Herald)